My Experience with Fat Cow Web Hosting
I switched over from Blogger to WordPress back in May. I love my new WordPress blog and have no regrets about leaving Blogger. The only thing I do regret was getting Fat Cow to host my blog.
This past weekend I switched to another hosting company, Hostgator. I was at my wit's end dealing with Fat Cow and felt that I had to do it. They were ruining my business! Despite the headaches and stress of switching hosts, I am glad I did it.
Many of you already know that I had ongoing problems with Fat Cow. I've been posting updates on Facebook for months now everytime my site was down. The issues didn't just start either. They actually began the first week I was online with my new WordPress blog!
Check out the support tickets! They only did tickets for some of the times I called so this isn't even all of them!
I've called them more times than I can count and even Jessica, my designer, has phoned them numerous times on my behalf.  When my site went down, the first thing I did was check some blogger friends who were on Fat Cow to see if their blogs were down too. Most times they were. I called Fat Cow some of these times and left it the others. I was tired of calling them. I really don't think they know what they are doing over there.
One of the issues I have had over and over and over again was losing all my graphics on my blog. My site had a white background and had no header or any of the pretty stuff that Jessica has done for me. This usually affected all my other blog friends on Fat Cow as well. I actually called Fat Cow and they said "oh your site looks fine to me". I replied back with, "No, it doesn't! I am missing all my graphics that I paid $ for someone to do!!". It didn't just happen once, but multiple times a day for weeks on end. That was an issue they said related to "website connectivity". When all this was happening, I also could not get into my WordPress Dashboard at all and lost valuable work time.
Another recurring issue was one that made me the most upset! It also happened over and over again from June to August right before I switched. Somehow my .htaccesss file code would get deleted. When this occurred you could visit my blog and everything would like fine, but then when you went to click on one of the links it would say "Error 404".  It was happening so much that the Technical Support gave me the code  and told me how to go into the Fat Cow control panel and re-add it into my .htaccess file! Then when I did that it would work and I would be back in business.
It seemed to happen at the worst possible times too. I was getting ready to leave to drive to Ontario when John's dad was dying and I checked my site before I left. Same stupid 404 Error. I got on the phone with Fat Cow and I was fuming mad. They told me a tech would look into it and it would 48 hours at the latest by the time they could fix it. That wasn't good enough! They had screwed me over so badly that I asked to speak to a higher level technician. I was put on with a very nice man who explained what he thought was happening and said he had "fixed it". He was the one to email the code should this same error occurred. So I left for my 22 hour drive thinking everything was A-Ok. Well, boy was I wrong!
When I got to Ontario and checked into our room. I checked email and had numerous emails from people telling me my site was down. I checked and yep, it was the same 404 error. I quickly copied the code in and it was working again. Talk about stress though. Of course, it had to happen when I had no access to the Internet!
This past week it went down like this three nights in a row like clockwork.  That was my breaking point. I was done.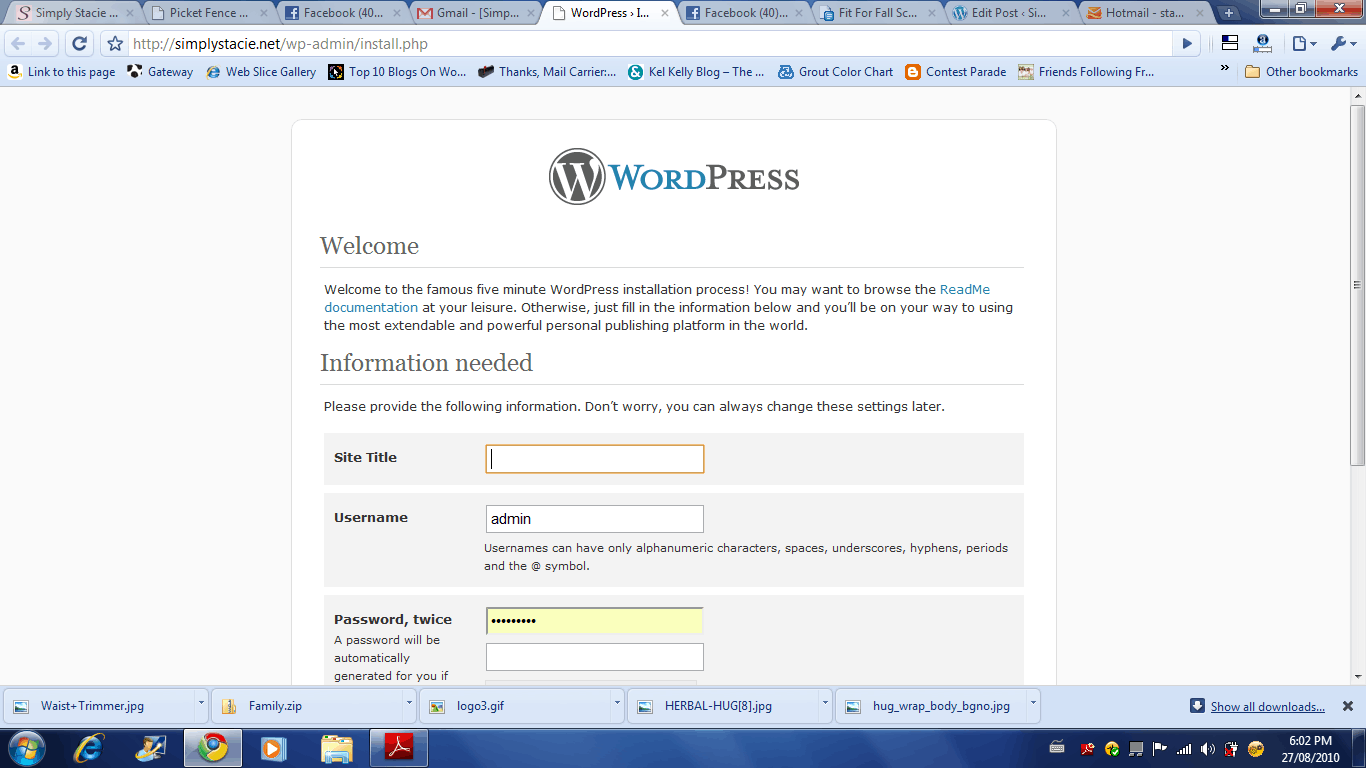 But there was another issue that also kept happening late last week. Somehow WordPress would un-install itself on my blog so that when you went to any of my posts or my main page, it would take you to a WordPress install page! It happened 10 times between Friday and Saturday. I called Fat Cow 3 times in those two days. The first time they fixed it, the tech just had to reset something. The second time, the reset wouldn't work and the tech told me it was a "mason error" on their internal servers.
The next day I was chatting with Jessica online and it happened and I showed her the WordPress Install page. I said, "That's it, I am done!". It was getting so ridiculous. I don't understand how they even stay in business. Jessica recommended Hostgator and I signed up with them right away.
I had a horrible experience with Fat Cow and wouldn't recommend them to anyone. I found it funny that last week as I was explaining my current issue, the tech told me about the Fat Cow affiliate program where I make money if anyone signs up through my link. All I could think was, "Fat Chance of that ever happening!". They were so unreliable and not worth the headache anymore. All I have to say is Good riddance!
I know that I am not the only one who had a bad experience with them. I don't know if anyone else has had an experience like mine, but if you did leave me a comment with your story. I don't even know if I can get a partial refund or not, but right now, I don't care. I am just glad to be off there! Thanks for listening!