Roman Meal Review
A loaf of bread does not last long in our house. We often have toast for breakfast and sandwiches for lunch (can you tell I like quick and easy meals?). Sometimes I will get "fancy" and use bread to make grilled cheese sandwiches, egg in a hole or french toast.  Needless, bread is always on hand!
I thought I had tried all the bread on the market, but I was wrong. Roman Meal was one brand I had yet to try out. They are a family owned company that makes high quality and nutritious whole grain bread, buns, cereal and muffins.  They are a well-known brand in the US and a few other countries, but are not in Canada. I guess that's why they were new to me!
Roman Meal sent me two loaves of their Whole Grain bread to try out. This bread is 100% whole grain with loads of flavour. I opened the bread right away and was happy to see it was still nice and fresh. I popped a few slices in my toaster to make a tasty snack- buttered toast. Mmmmm it was so good and really hit the spot.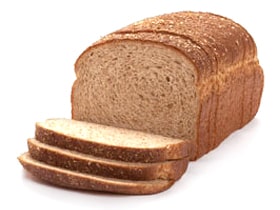 I like that Roman Meal bread is chock full of vitamins, minerals and fiber and has 10 grams of whole grains in each slice! It is also a source of complex carbohydrates which make you feel full longer and give you energy. It's the perfect breakfast to have to start your day. Too bad they aren't in Canada yet, because I know we would buy this again! With back to school starting soon, Roman Bread is a healthy choice for your kid's lunches.
*I was not financially compensated for this post. I received a sample of the product for review purposes. The opinions are completely my own based on my experience.*