Aurorae Yoga Mats Review
There's nothing worse than working out on a hard floor or rough carpet. I was always getting scraped knees or a sore bottom every time I tried to do yoga at home. A towel on the floor just wasn't cutting it for me. I am so thankful for my new Aurorae Yoga Mat which has allowed me to work out at home more comfortably!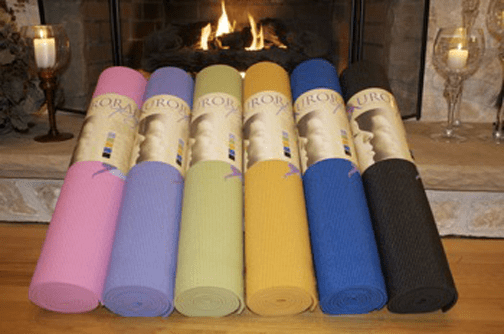 My physiotherapist recommends that I do yoga because it will help me build strength and flexibility and is good for my pelvic floor muscles. Yoga is also good stress reliever for me and that's another reason I like doing it. Now that I have my Aurorae Yoga Mat, I actually look forward to working out at home.
The Aurorae Yoga Mat is an ultra thick and extra long. It easily fits my body and can even accomodate John's large frame. It's 1/4″ thick which is just the right amount of cushion to protect your joints and knees on impact. I also like the eco-friendly material it's made from and how it gives me enough grip so I don't have the sensation of sliding all over the place. Its also odour-free which is so important because after a few workouts, I wouldn't want my mat to smell like stinky body odour! It has no smell which is fine by me!
The mat I received was black which represents Infinity (Strength, Sophistication, Professionalism, Potential of Endless Possibilities). It comes in other colours that represent different qualities. For instance, Â Pink represents Hope and Blue represents Ocean so you can choose the colour and inner qualities that appeal to you. It also has a focal point icon on the mat to aid you in your concentration during your workout. Much of yoga is also mental so this helps to have something to focus on.
I was also sent a few other products to accompany my new yoga mate. The Yoga Sport Sweat Towel is made from 100% Natural Cotton Soft Terry that absorbs sweat as you do your routine. You can use it right now your mat or keep it beside it and just wipe your face as needed. The Yoga Slip Free Rosin Bag reminds me of the stuff the gymnasts use at the Olympics to keep from slipping on the equipment. Same idea here. Its used on your hands and feet to keep your body secure on the mat.
I LOVE the Yoga bag- it reminds me of my old acid wash jean jacket from the 80s (how I miss that jacket!). Its nice and roomy and fits my yoga bag, towel and rosin bag with room to spare. It easily slings over my shoulder so if I did go to a Yoga Class, I could easily transport everything with me and do it in style!
You can purchase the entire set from Amazon for $76.80. If you enjoy Yoga, then its an excellent choice for you to buy. I am loving mine!
*I was not financially compensated for this post. I received a sample of the product for review purposes. The opinions are completely my own based on my experience.*