Book Review | Smile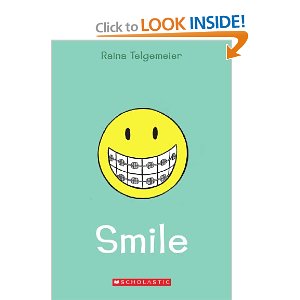 Title: Smile
Author: Raina Telgemeier
My Review:
When a copy of Smile by Raina Telgemeier, the cover actually made me smile too – the happy face with the braces is very eye-catching! I love graphic novels so I was interested in reading about the adventures in this book!
This graphic novel follows the experiences of Raina as she travels from Grade 6 to Grade 10. The book starts with Raina having to get braces which doesn't happen as planned because she falls and actually knocks out her two front teeth! The subsequent events (from retainers to braces and everything in between) connect up to Raina's fears of being different. She has to deal with some "friends" who make her feel badly, going to a new school and dealing with boy issues. The novel ends with Raina's self-esteem intact, a new group of friends and her ability to finally smile without worrying!
I loved this book more than I thought I would! I've never had braces, so I found all of the issues she faced with her teeth interesting. I also appreciated her experiences in junior high and high school because I could relate to issues she faced – I also felt betrayed by "friends" at that age, also had crushes and dealt with issues around family and self-esteem. I think this graphic novel is awesome because I think that Raina's experiences transcend the time period in which they occurred and would be easy relateable for tween and teen girls.
I would highly recommend Smile for girls (and women) of all ages because it is a fun graphic novel with a great message about finding confidence in yourself!
*I received a copy of this book from Scholastic to review but I was not financially compensated in any way. The opinions expressed are my own and are based on my observations while reading this novel.*