Blog Spotlight | Twee Poppets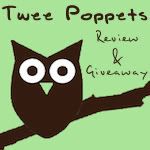 Today I would like to welcome Chelsea from Twee Poppets! I had a chance to learn more about her blog and here's what she had to say…
Please tell me about yourself.
My name is Chelsea. I major in Early Childhood and Family Studies at the University of Washington, volunteer at a preschool, and work as a nanny to children of all ages. Through all my work with wee ones, I encounter more children's products than you can imagine! I decided to start Twee Poppets to pass along what I've learned.
Please tell me about your blog.
Twee Poppets is a review and giveaway blog with a focus on products for babies, children, parents, parents-to-be, homemakers, caregivers, and families! I also run a weekly blog hop called Tuesday Tag-Along, which is a great way to discover new blogs while gaining tons of new followers for your own!
How long have you been blogging?
Just barely three months now, but I'm having a wonderful time!
How did you get started?
I started my blog on a bit of a whim. I enjoyed reading similar blogs and entering the giveaways on those sites, and I thought it would be fun to see how things worked from the other end. Plus, I can't wait to be a mom in a few years, so I knew it would be a great way to start collecting important gear for my future baby!
What kinds of products do you feature on your blog?
I mainly focus on products for kids and parents, but there's really something for everyone! I try to include all sorts of items to help keep things interesting. I especially love featuring handmade items from Etsy sellers. I'm always on the lookout for new products to review!
What was your favourite giveaway?
It's really tough to choose – in a way, they're all my favorite! But I have to say, I'm really excited about the giveaway I have going on right now (until 7/10) for a $60 gift card to any of CSN's 200+ stores!
Who does your blog appeal to?
I think Twee Poppets would have the strongest appeal for parents of young children, since the products I feature mostly apply to that general demographic. But again, it is my hope that just about anybody could find something of interest!
What direction do you see your blog going in the future?
I'd like to continue in the same basic direction, posting mostly reviews and giveaways – but I would love to keep growing and be able to bring my readers bigger and better giveaways every day!
What is the biggest challenge you have faced so far with your blog?
The hardest part has definitely been just figuring this whole blogging world out! I'm a first-time blogger, so this is all new to me. On the surface of it all, there is tons of etiquette to learn about; behind the scenes, there are plenty of technical issues. I feel like I've learned a lot, but I still discover something new every day!
What do you love about blogging?
The whole experience has been so much fun! I love meeting new people, trying new products, and seeing my blog grow. It's also been a lot of fun to make some online friends and watch their blogs grow right alongside mine!
Do you have a blogging pet peeve?
As a blogger, I get super frustrated when formatting my posts – trying to set two photos side by side on Blogspot is a doozy. It's so finicky! As a reader, though, I have to say that I really hate it when bloggers put music (that plays automatically) on their blogs. I always have to go pause my iTunes to avoid the resulting cacophony – then I'm stuck listening to their music instead of my own!
Do you have any advice for the readers entering your giveaway? newbie review bloggers?
For readers entering my giveaways, just read the entry instructions carefully, include your email address in at least one comment, and be sure to leave a separate comment for each entry. For new review bloggers, make sure you take the time to write great reviews – cover all the main points about the product, proofread your work, and be opinionated. Don't just copy the product description and call it a day – businesses can do that on their own!
Tell me some of your favourite blogs that you read.
I'm subscribed to a ton, and I really love browsing through all of them. It's way too tough to narrow it down! Let's see…well, Simply Stacie is one of my favorites (honest!); I've been a long time reader of Swistle Baby Names; and my boyfriend very recently started his own blog (Mediocrity Chronicles), and I've really enjoyed peeking into his brain.
How can people find you?
They can visit my blog (http://tweepoppets.blogspot.com), my Facebook (http://www.facebook.com/tweepoppets), or my Twitter (http://twitter.com/tweepoppets). I love meeting new people, and I am always more than happy to return follows (just leave a comment saying you're a new follower, and please include a link back to your site). I hope you'll all come say hello!