Unwind Review
Do you have a nightly routine you do to relax at the end of the day? Maybe a hot bath or reading a book? For me, I like to read right before bed. It either makes me super drowsy or more awake and all depends on the book. I know some people like to have a hot tea at bedtime, but what if I told you to drink a can of an orange flavoured carbonated beverage and it would help you fall asleep?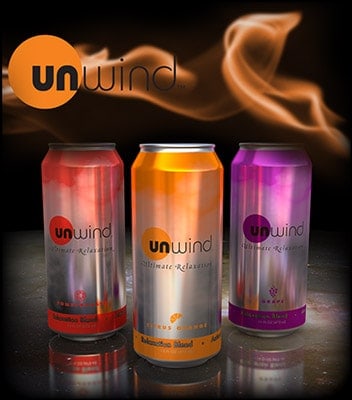 I am being completely serious and this was a new concept to me especially since I normally don't drink pop. Unwind is no ordinary drink. Its a blend of antioxidant rich acai and goji juices with Valerian Root, Melatonin, and Passion Flower, all which are meant to calm you down help you to release the stress of the day. It also only 40 calories and has 10 g of sugar per can.  It comes in 3 flavours- Pom Berry, Citrus Orange and Goji Grape.
I got to try two cans of the Citrus Orange Unwind for review. I wasn't sure what to expect since I don't normally drink pop and I am a pretty high strung, anxious person to begin with so I wasn't sure what effect if any it would have on me. I had my first can during my nightly bedtime routine of reading. It tastes just like orange pop and it wasn't weird or off tasting at all. In fact, it was really good! The main benefit though was how it made me feel! As I was drinking my can, I could slowly feel my body relaxing and letting go of tension. I have chronic pain so my body is always on alert waiting for the next pain to hit. Its really hard for me to just let loose and relax completely. I felt Unwind helped me tremendously and made me feel very relaxed. I need to buy more of this because it worked so well for me. Its something I would have never thought I would like, but now that I have tried it, I definitely want to get more!
I had a look at their site and it appears they ship only in the US.  I hope they can ship to Canada soon!
If you are looking for a yummy beverage to help you release the stress of the day, then try some Unwind.
I am also pleased to announce that Unwind is an official sponsor of the Blogmania and BlogFest events coming up in September!