Blog Spotlight | You Don't Know…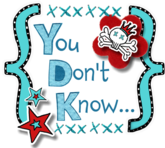 I am running a feature spotlighting other Review & Giveaway Blogs. If you have one and would like to be featured, please email me at [email protected]
Today I would like to welcome Brandy from You Don't Know. I had a chance to learn more about her blog and here's what she had to say…
Please tell me about yourself.
I'm just gonna steal this from my profile – Hi – I'm 30 years old. I'm a willy nilly hot mess. My lollygaggin money-wastin husband Chris devoted himself to my craziness 12/99. We brought a little rolly-polly chubby-cheeked poop machine named Grayson into this madness 12/08.
Please tell me about your blog.
I recently started doing reviews and giveaways but my heart is in my mommy posts. I'm a first time mom to a 18month old and have all those issues that go with that.
How long have you been blogging?
It's been 2 years. nuts.
How did you get started?
I had a friend that had a blog and she talked me into starting my own. It started as a crafty blog and evolved from there.
What kinds of products do you feature on your blog?
I love to feature mom/children stuff. Fun prints and innovative products.
What was your favourite giveaway?
I think so far it's been the Erin Jane Illustrations. They are just so gorgeous. I really love sharing a great find with my followers.
Who does your blog appeal to?
Moms. It really is a mommy blog.
What direction do you see your blog going in the future?
I really don't know. I think as Grayson gets older and more independent – I would love to start doing more craft stuff. I think sometimes my blog has a life of it's own.
What is the biggest challenge you have faced so far with your blog?
Honestly – the giveaways. I'm torn. I LOVE getting review items and sharing those finds with my readers. But I'm scared of running of my regular readers and I know some people are just around for the giveaways. It's a double-edged sword.
What do you love about blogging?
Learning new things, meeting new people, making new friends, and having that outlet to connect.
Do you have a blogging pet peeve?
When a blogger doesn't have an email associated with their profile – I want to be able to email them back. I like to connect!
Do you have any advice for the readers entering your giveaway? newbie review bloggers?
Pay attention to the rules/deadlines. I've had people enter closed giveaways – weeks after. crazy.
And for the newbies – be prepared for how time-consuming it is. You have to market yourself to get the review. and market your blog once you have the reviews done. Lots of time and effort goes into the hunt and gather and the prep and post and the follow up.
Tell me some of your favourite blogs that you read.
1st – my mommy blogs
2nd – my craft blogs
3rd – the "popular" ones.
How can people find you?
http://www.brandyatyoudontknow.com/
http://www.facebook.com/pages/You-Dont-Know/113687915339716
http://www.facebook.com/people/Brandy-Wyrick-Okey/1289242872