Blog Spotlight | This Mama Loves Her Bargains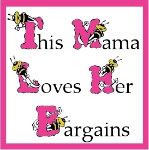 I am running a feature spotlighting other Review & Giveaway Blogs. If you have one and would like to be featured, please email me at [email protected](it's free!).
Today I would like to welcome Brett from This Mama Loves Her Bargains. I had a chance to learn more about her blog and here's what she had to say…
Please tell me about yourself.
I'm a stay home mom full time to my 3 kids, and a part time assistant wedding photographer (emphasis on very)…and now a mom blogger!!
Please tell me about your blog.
I started it because I was forever finding deals and sharing them and someone suggested I start a blog a year ago- I laughed at them…and then I just did it, got serious about it in April of this year. I write about family friendly just about anything- which covers a huge range, I know.  Products, deals, services- reviews, giveaways. No "adult" content.  Mild and tame, that's me.
How long have you been blogging?
Gosh, a few months!How did you get started?  Oh.  See above!
What kinds of products do you feature on your blog?
Family friendly products- from cloth diapers to health and beauty aids to food products.  I really LOVE Etsy and hope to work with a lot of Etsy sellers.
What was your favourite giveaway?
On MY blog?  It's kind of too soon to tell.  I'm doing a giveaway with a friend so that's really fun, helping her get her business some exposure.  On other blogs?  Any cloth diaper giveaway.  I'm a woman obsessed.
Who does your blog appeal to?
I would say mostly other moms, but really, women.
What direction do you see your blog going in the future?
Upward and onward!!
What is the biggest challenge you have faced so far with your blog?
Figuring out a way to start doing reviews and gain the 'exposure' I need without compromising what I believe in.
What do you love about blogging?
It's fun. I've "met" so many nice people in such a short time frame!!  Plus, its mine.  Even though my family helps test things out, I own this, alone.
Do you have a blogging pet peeve?
People who don't read entry requirements.
Do you have any advice for the readers entering your giveaway? newbie review bloggers?
I would be the newbie needing advice, I think.  Advice for readers would be to please READ the entry requirements.
Tell me some of your favourite blogs that you read.
Pioneer Woman, Matt Logelin, Dooce, Next Kid Thing.  Many others.  Those are the blogs I've read the  longest- well over a year !
How can people find you?
I'm on Twitter @mamatomjr and I'm on FB with my blogname