Blog Spotlight | Florida Frugal Family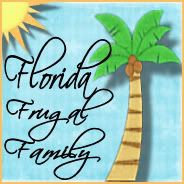 Today I would like to welcome Ana from Florida Frugal Family. I had a chance to learn more about her blog and here's what she had to say…
Please tell me about yourself.
My name is Ana and I am a proud Mami of a 3 year old little Warrior Princess.  I met the love of my life, Robert, when I was 18 years old and have been married to him for 17 years in July.  Three years ago, I was in a Doctorate program studying clinical psychology (this I thought was the passion of my life).  Then I became pregnant and had a beautiful little girl named Savannah.
Savannah was born with a rare liver disease named Biliary Atresia.  When she was 4 months old we were told she would need a liver transplant or she would not reach her 2nd birthday. You can imagine how earth shattering this was to us.  We waited 8 long months and then on December 29, 2007 we received he Call that would change our lives forever.  Savannah was to receive the Gift of Life from her donor angel.  She received a liver transplant and not only reached her 2nd birthday but her 3rd birthday and we look forward to many more birthday blessings!  If you are interested in learning more about this journey you may visit our blog at www.CotaForSavannahA.com.
Today, I am the CEO of our home.  I have all that I dreamt about when spending so many long nights in the hospital next to my baby girl.  I have a healthy little girl who sleeps in her own bed at night.  I have 2 crazy dogs.  I have a roof over my head and food in my fridge.  I have the hugs and kisses from my daughter and the love of my husband.  I am RICH!
If I am so rich why did I start Florida Frugal Family? Well, I am rich in what is important but as many know when you have a medical crisis such as the one we faced it leads to realization that you are not as secure as you thought you were.  Although, one day you may be healthy and have a good job well that can change within hours.  I started 2010 with a new attitude and wanting to take control back of our lives.  I started to coupon to save on groceries and discovered so many deals to help our finances that I just wanted to share with others.
Being frugal for me is not about not having things to make our lives comfortable but to think twice about how much we are spending on what we want versus what we need to spend.  It is also about giving back for we know too well what happens when life gives you circumstances you do not expect we were blessed with strangers who helped us along the way and want to pay it forward.  We should be frugal with our money but never with our hearts, our love or our compassion for others.  So, when I find the deal and purchase 15 boxes of cereal for pennies on the dollar.  The cereal will not only feed our family but much of it will be given to charity to help feed others.
Please tell me about your blog.
Florida Frugal Family highlights the deals that I find online. I also do product reviews of items that are family friendly and the best part Giveaways! On Sunday's I feature a charitable organization in Sunday Sharing to highlight because I truly believe that we should be frugal with our money but never with our hearts, our love or our compassion for others.
How long have you been blogging?
I have been blogging my our families journey with liver disease for 3 years at www.CotaForSavannaha.com. I started Florida Frugal Family in January of this year.
How did you get started?
I got started by reading other frugal blogs and loving the money I was saving by following these amazing bloggers. I kept sharing the deals with my friends online and finding new ones on my own.I decided that rather then typing over and over the amazing deals that I should simply start my own blog and share with as many people. It is surreal to me how much money I have saved our family from tracking down deals just surreal! I have become a Coupon Addict! Yes, my name is Ana and I am a Coupon Addict!!!
What kinds of products do you feature on your blog?
I feature family friendly products. We have a 3 year old little girl but we also have other reviewers our 2 nephews (6 and 9), as well as a pregnant friend, Katie who is due in September.
What was your favorite giveaway?
It is hard to pick a favorite because I honestly only feature items that I like. If an item is something I did not enjoy I have contacted the company and explained that I will not feature them on my blog. I only want to share the good stuff!
If you were to ask my husband he would tell you he loves reviewing the gadgets and household items. We are just reviewed the Soda Stream machine and he is IN LOVE! I seriously enjoy posting giveaways someone else has a chance of winning the product!
If you were to ask my daughter she would tell you it has been the children's books that she has been lucky enough to review (yup she is 3 and LOVES books!)
The giveaways that are closest to my heart are the one's I will be featuring on my charity blog  http://mamionamcmission.blogspot.com/.  To have a company offer to send extra children's products to donate to my Mami on a McMission Welcome Wagon warms my heart!  (I will share more about M.O.M.  Mami on a McMission below).
Who does your blog appeal to?
My blog appeals to everyone who wants to do the best they can to stretch their hard earn money.Being frugal is not about being cheap. An item may cost more but last 10 times longer this is a frugal purchase. Being frugal is being a wise consumer.
What direction do you see your blog going in the future?
I am in the mist of teaming up with frugal bloggers across the country so that we can compare deal scenarios in different parts of the country. Although the name of my blog is Florida Frugal Family the majority of the deals that I post about can be found throughout the country.
What is the biggest challenge you have faced so far with your blog?
The biggest challenge has been having others think the deals I highlight are only local deals. Once they start following my blog they realize that they can snag this deals too! The product reviews and giveaways are products offered throughout the country with companies that have websites they can visit.
What do you love about blogging?
You can call me a dork..it is okay I embrace it but I seriously love knowing that others are reading the blog and finding ways to help their family!
Do you have a blogging pet peeve?
I think my biggest blogging pet peeve would be coming upon a blog that is hard to read. Usually because the have used a font color against the backdrop that is hard to read.
Do you have any advice for the readers entering your giveaway? newbie review bloggers?
My best advice is simply to leave a separate comment for each entry. When there are extra entries please leave a separate comment for each. I choose winners through random.org and it counts the number of comments. So, if someone writes that they are a Google Follower and also Follow my Facebook page in the same comment it only gets counted as one entry. I want you to have more entries that is why I put extra entries so you have a better chance of winning!
Tell me some of your favourite blogs that you read.
I am pretty much a blog stalker of I Heart Publix. I have actually written Michelle and told her so yup she is grateful she is not my neighbor because I confess I would follow her at the grocery store. She has been kind enough to give me permission to post her Super Deals but her blog is more then just the deals.
How can people find you?
Site – http://floridafrugalfamily.blogspot.com/
Facebook http://www.facebook.com/pages/Florida-Frugal-Family/323091339585
Twitter – http://twitter.com/FlFrugalFamily
It is my hearts desire that other bloggers join me in the mission…
Why start M.O.M. – Mami on a McMission?
Our family knows how important the Ronald McDonald Houses throughout the country are to so many.  We ourselves have been graced with the hospitality of 3 different Ronald McDonald Houses.  I actually moved into the Ronald McDonald House of Southern New Jersey for months while waiting for "The Call".  My amazing husband and I chose to have our family live apart as to make sure Savannah had the best medical attention possible.  We lovingly refer to the Ronald McDonald House of Southern New Jersey our "Vacation Home".
The very first time we walked through the doors of a Ronald McDonald House, Savannah was 4 months old.  We walked into what we later learned was the original home, the Ronald McDonald House in Philadelphia, Pennsylvania.
When you walk into the Philly House you will encounter a large red wagon filled with new toys.  It is a heartwarming site.  I asked one of the volunteers why the wagon was at the front desk?  I was told that any child walking through the front doors can pick any toy to have…this is because the first night is always the scariest.  I remember holding my baby girl just grateful that she was 4 months old and did not know where she was other then in her Mami's arms.
We have been very blessed and we are home.  We know that we will visit our Ronald McDonald "vacation" House in New Jersey throughout our daughters life for she will always need follow up care.  We know we will be welcomed with open arms simply because that is how they welcome everyone.
We had the blessing of serving dinner at the Fort Lauderdale House with my husband's amazingly generous coworkers in the beginning of the year.  My daughter along with our friend's daughter immediately started to play with a 3 year old little girl who had just come to the House the same day.  I was so happy to know that the memories of the first night in the House for this child's parents would include the huge laughter that these three little ones shared…oh and THEY laughed and ran..it was great!  This little girl was due to lose her eye to a cancer she had been diagnosed with just 2 weeks prior…another little Warrior Princess.  As we left, I asked the father of this little princess if she had any toys with her and he said, "At home but not here.  We just grabbed her medical records, some clothes and ran".  I knew this truth, for when you are faced with a medical crisis involving your child you simply go into auto pilot to save your child's life.  I KNEW at this moment that I would make it our families mission to welcome each child walking through the doors at this House with a toy…for these children are just that…children.

On December 29, 2010 we will donate a "Welcome Wagon" to the Ronald McDonald House in Fort Lauderdale, Florida filled with new toys.  We shall do this in honor of our Warrior Princess in her Donor Angel.

We are NOT a non-profit nor an organization.  We are a family who wants to pay it forward.  We are a family who knows the grief of having a child who is sick and fighting for their lives.  We are a family who have been the recipient of the kindness of many nameless and faceless strangers.  We are a grateful family.