Hello my name is Jessica Guthrie and I am a hairstylist, a mother of 3 girls, and a Consultant for Just Jewelry. I was born and raise here in Illinois in a part called the Quad Cities which is located on the Mississippi River border next to Davenport, Iowa. The best thing about me is I love what I do. Whether it is down time with family or making people look and feel their best. I have been a hairstylist for 15 years and continue to enjoy every minute of it. There is not one part of my job I like better than the other. I look forward to meeting new people and love growing my business. It is a passion and not many people can really say they love to work. I have become a better person and stylist because of my clients that have continued to follow me through all my lifes ventures. I wanted to earn a little extra spending cash so I began researching at home businesses that would incorporate into the salon. I thought to myself what would sell well? Then I thought jewelry! It never goes out of style. I then began researching the different jewelry companies. Lia Sophia, Silpada, etc. They all had great stuff but I could not see myself asking people to spend $50-$100 or more on an item. Then I came across Just Jewelry. Great jewelry items at affordable prices!
As a consultant and hairstylist I am able to share a personal touch to one's own style. Working in a salon I get the chance to meet all types of people and to be able to extend that service to beautiful jewelry is a great pleasure. Outside of the salon I offer home shows, office parties, fundraising and events. Its just another great way to be yourself and look great doing it.
Just Jewelry all started with close friends Virginia Depp and Nicole Nelson. They discovered that they shared a desire to own their own business. Just Jewelry was created in June of 2002 with currently today close to 1200 consultants through the United States and Canada. The selection of jewelry is stylish, trendy and fits anyones budget. It compliments any style from jeans and T-shirts, office attire, to a formal night out! People ask me about the jewelry every where I go. I love to see there reaction when I tell them I sell it! Then I tell them how much! SOLD! In this economy everyone is cutting back. As a hairstylist I know first hand that us women will do everything in our power to have they way we dress and look be the last thing we cut back on. That is what I love about Just Jewelry. Everyone can afford it and still look stylish! Beautiful, affordable, fashion and sterling silver jewelry and the Just Jewelry opportunity from home. What is so great is that all prices are a set price.
Necklaces $22.00
Bracelets $15.00
Earrings $12.00
Watches $26.00
Sterling Silver Toe Rings $12.00
Sterling Silver Anklets $26.00
Sterling Silver Rings $38.00
Sunglasses $15.00
Scarves $15.00
Keychains $12.00
A favorite set of mine is the Delightful Set. I can wear this with my and Old Navy fleece hoodie and a pair of holey jeans or I have worn with a pair a dark brown slacks and blouse. Im a nuetral girl but I love the way the necklace adds dimension not only with the layers but the colors.
This seasons trends are BIG, Bold and Colorful, and Just Jewelry brings that to you!
Just Jewelry is a ground floor opportunity and is one of the FASTEST growing home based businesses in the nation. Just Jewelry is a Christian Based Business. It is a great opportunity for woman and moms just like me that is looking for a little something extra in their life or even a career. If you are like me and was looking for a job that is fun and exciting or you are just a plain Jewelry Addict then visit my web page at www.theavesalon.com/justjewelry.html or http://www.theavestylist.blogspot.com/. I promise you will love the Jewelry and who knows you may just want to join my team. I would love to have you!
Who You Are Is More Important Than What You Wear
Stop by Just Jewelry by Jessica
http://www.justjewelrybyjessica.com/
Visit the online catalog
http://itsjustjewelry.com/CatalogPages/Default.html
The It's Just Jewelry Corporate Website
http://www.itsjustjewelry.com/
email me at
[email protected]
Other Places To Find Me
www.facebook.com/justjewelrybyjessica
www.twitter.com/theavestylist
Here's My Blog!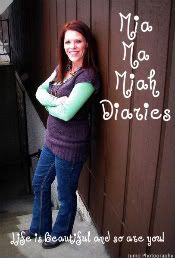 I Love New Followers!
Giveaway
Just Jewelry by Jessica is giving away a necklace of your choice to one of my readers.
Giveaway closed.