Breeze Comfort Review
When it comes to bras, I want something that is going to be both comfortable and make me look good in shirts. I want a bra that offers full support to give me a "perky" look, but it has to be something that feels super comfy so that I am not picking at myself all day. I like bras with padding since I am a B cup and like to look a little a bigger than I am. I don't think I would ever get implants so the only way for me to look bigger is with the right bra. And boy do I  have the right bra now!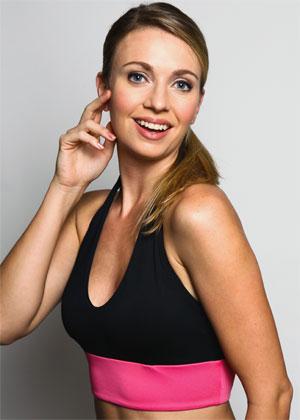 First let me tell you a bit about Breeze Comfort and what makes their bras different from the rest. Regular bras are normally made from man made materials that don't allow your sweat to evaporate. Hence, you get sweaty boobies which are not very pleasant at all. Breeze Comfort uses a technology called the Ventripad in their bras it maximum breathability.  The Ventripad has perforations throughout the padding so that air can get through and your boobs can breathe. Your sweat will evaporate quickly and you can remain dry, cool and comfortable. This is a great benefit when you are active, but also in day to day use. I sweat a lot especially in the summer so I can certainly appreciate this technology.
Breeze Comfort sent me a Basic Pink Push Up Bra to review. Pink is my favourite colour so I was excited to get a new bra.  It has molded seamless cups to give you a perfect smooth look. I also appreciated the double banded adjustable shoulder straps. It was so nice to have a bra where I was not constantly pushing up bra straps that were forever falling down. Once this bra was on, the straps stayed put. Its also underwired to give you a lift which I like.  I want to say first that it is VERY comfortable to wear. I wasn't constantly picking and once on, I barely even thought about it. It also does not give you sweaty boobs! The Ventripad technology really does work. I am always so sweaty and its nice to wear a bra to leave you feeling cool and fresh.
The best part about this bra though was how good it made my boobs look in shirts! Holy cow what a difference! Not only am I now a bigger size thanks to the padding, but I am also very lifted and perky. It looks amazing!!! Even John was impressed. He thought the bra worked wonders. Its taken years off the appearance of my boobs!
If you are looking for a well made bra that is super comfy that looks amazing in clothes, then check out Breeze Comfort's selection of padded bras, push up bras and sports bras. They have given my boobs a new lease on life!
Disclosure: I was not financially compensated for this post. I received a sample of the product for review purposes. The opinions are my own, based on my personal experience with the product.