When I wear jewelry, I tend to choose classic designs and I am drawn to jewelry which also has a message that matches my way of thinking. For this reason, when I first ran across the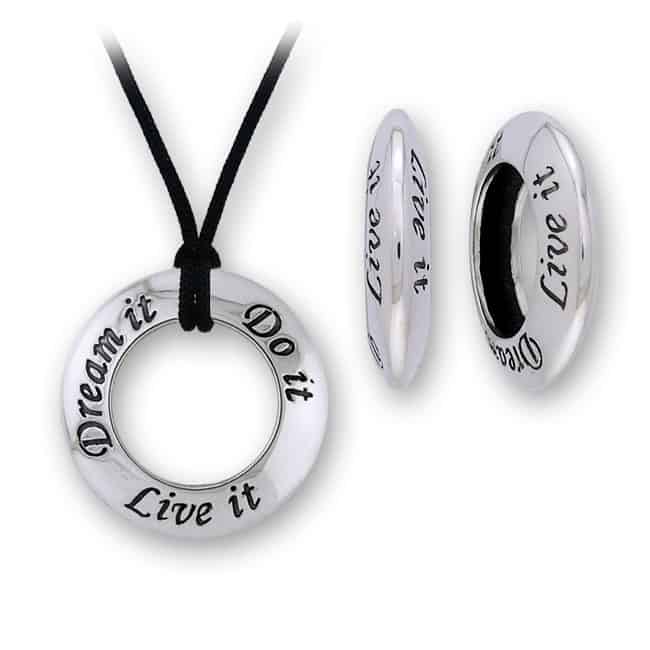 The owners of Waves of Gratitiude, Kim and Cheryl, provide some background about their company on their website. They describe the reason behind their company as:
"Waves of Gratitude, founded by Cheryl Nordyke and Kim Wierman, is a company that exists because of their belief that when life presents you with professional and personal difficulties a strong foundation of gratitude can help turn those difficulties into opportunities. That is exactly what Cheryl and Kim did."
"Their resolve to build a future based on a foundation of gratitude was unwavering. They created an online store to give everyone the opportunity to wear powerful symbols of gratitude: jewelry and apparel that is not only beautiful but has meaning."


When I received my Empowering Words necklace, I wanted to put it on right away! I loved the message contained with the words on each of the rings – Self Knowing, Self Balancing and Self Fulfilling – because I believe that words contain a lot of power and they have the ability to remind me that I control my own destiny through the power of my thoughts and words. It also reminds me that I need to have strong self-awareness and to always work to strike a balance in my life as a means of achieving my goals and providing harmony in my life.


In addition to the amazing message that I now wear around my neck, I am impressed with the quality of this necklace. It is made of sterling silver and it bright and shiny – there are no little chinks or imperfections that you sometimes find in sterling silver pieces. As well, the rings are just the perfect size and beautifully crafted and the letters on each ring are the etched deeply so they can be easily read.
Waves of Gratitude has a variety of gorgeous jewelry including some beautiful bracelets and corded necklaces that I really like! They also have a great line of Inspired Clothing that I think look really striking!
I would highly recommend Waves of Gratitude because I think they have a wonderful philosophy and their pieces reflect the positive thinking that they embody! I love reading their blog as well because I find it really inspirational!
*I was not financially compensated for this review. I received a sample of the product for review purposes. The opinions are completely my own based on my experience.*