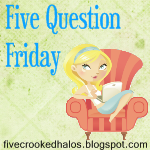 I am joining into this week's Five Question Friday hosted by My Little Life. Here are my answers to this week's questions!!
1. Is there something you've always wanted to try but just can't muster up the courage to actually do yet?
Water-skiing!! It looks like so much fun, but I am a big chicken.
2. If you had $100 handed to you in cash without your significant other knowing about it, what would you spend it on?
Books!! I love to read and and have a serious addiction to buying books. I am always picking up a book everytime we go out. I just need to find the time to read them all! John has built me more shelves to accomodate all these new books I have.
3. What was your favorite piece of playground equipment as a child?
The Teeter Totter!
4. Do you prefer a sweet or hearty breakfast?
Hearty!! Think scrambled eggs, bacon, toast, hash browns and coffee. Yum!
5. Are you a Neat Freak or a Messy Bessy?
More of a neat freak! I can't think straight when things are messy and disorganized. It drives me bonkers!