Blog Spotlight | The Life Of A Coast Guard Wife
I am running a feature spotlighting other Review & Giveaway Blogs. If you have one and would like to be featured, please email me at [email protected]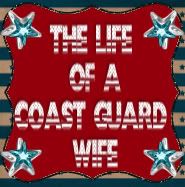 Today I would like to welcome Cara from The Life Of A Coast Guard Wife. I had a chance to learn more about her blog and here's what she had to say…
Please tell me about yourself.
Hi! I'm Cara. I am a proud Coast Guard Wife and mom of 2 boys. My boys are 4 and 5. Only 11 months apart! I currently live in south Alabama. I'm originally from Texas! Or, as us Texans say, 'God's Country'! 🙂 Being a military wife is hard, but luckly, my husband will never go overseas. He only goes out to sea. It's still no fun having him gone for 30-45 days at a time, but I'm proud of him and what he's doing! I love the outdoors! All summer, you wont find us at home. Nope, we are always at the lake with friends riding out jetskiis! Love it! We custom painted mine black, purple, and green. I love to review products and have giveaways. It makes it fun each day waiting for the mail lady to get here. I have to fight with my boys to check the mail! 🙂 I just started my blog back in Feb., and I'm very proud of myself at how fast I've gotten it going! If you're following, thank you!
Please tell me about your blog.
My blog is mostly reviews and giveaways. I occasionally blog about personal things. Once we get moved into our new house in May, I'll be posting more personal things. My reviews are all over the place, but I LOVE to review beauty products! Makeup and jewelry are my favs! I've become more of a 'girly girl' here lately. I'm always searching Etsy for shops that I'd love to review for and have had lots of luck. Etsy rocks! I'm open to review anything and everything and I love a challenge!
How long have you been blogging?
Well, I just started my blog back in Feb. I know my profile says that I created it back in 08…and I did. I created it and posted one time, then it sat until now! 🙂 I've always loved to write. I have a diary that dates back to 1994! I was only 11 years old! It's hilarious reading the things throughout the years.
How did you get started?
I love to enter giveaways. I started out on Slick Deals, then moved to Twitter. Once on Twitter I kept coming across all these blog giveaways. I thought to myself, that looks like so much fun! I remembered that I had my blog and figured that was a good place to start. After that, I was at a loss. I didn't know how to get started reviewing. One of the blogs that I had entered on was Live, Love, Laugh with Leslie. I called on her for help. I figured she would just blow me off being that she was busy with her blog. I was wrong! She took me in and showed me the ropes. I then just went out there on my own contacting companies and doing a little research. Things just took off! I've even given Leslie a few tips! But, I never would have had a chance without her! 🙂
What kinds of products do you feature on your blog?
Like I said earlier, I love beauty products. I've done many different things though. Coffee (which I CAN'T live without), children books, jewelry, makeup, cleaning products, wall art, and a flat iron are just a few that I've done. I'm open to everything, and will always give my honest opinion!
What was your favourite giveaway?
Oh goodness! It's hard to pick, but I think I'd have to say my favorite is one I have going on right now. Wag's Creations. They have the most creative things and I LOVE the book frame I got to review. Plus, I love the story behind the name of the shop!
Who does your blog appeal to?
Mostly to women and moms. That's what I am, so that's what I know. I would like to get more things geared towards guys. My husband could review. I'd really enjoy that! 🙂
What direction do you see your blog going in the future?
I really just want it to grow. I'm am going to continue to do what I love and hopefully people will love it too! I'm always looking for ways to advertise, as well as new items to review. I want to enventually get big enough to where I can start selling ad space and making a little bit of money. Until then, I welcome any and all help/tips!
What is the biggest challenge you have faced so far with your blog?
I can't get the google page rank! It wont let me put it on. I can't remember the reason, but I think it might be because it sat for so long without any activity. I don't know how to get around it! I'd like to put it on because some reviews require certain page ranks. Therefore, I have to pass on those. 🙁
What do you love about blogging?
My favorite thing is meeting all the new people. I love talking with the companies and shop owners. I love going through my comments, and reading what others are up to on their blogs. Blogging is a lot of fun and very rewarding!
Do you have a blogging pet peeve?
So far, the only thing that has bothered me is when people don't do my mandatory entry right. I try to make my rules as clear as possible, but you still have those people doing it totally wrong. I think they just skim through it and miss out on things. I do give people one chance though. If they've done it wrong I will email them and let them know that they need to go back and look at it again. I think that's the nice thing to do. It's hard for me to delete comments!
Do you have any advice for the readers entering your giveaway? newbie review bloggers?
For my giveaways, it's like what I just said. Read what I'm asking you to do and follow it. A lot of work goes into writing reviews and doing a giveaway! All I ask is that you are honest about your entries (I check a lot but not all) and read through everything. I always verify email subscribers, and give thank you comments when you blog about my giveaway. For newbies, my advise is to get yourself out there as much as you can. Mingle in other blogs. Participate in Friday Follows and things of that nature. Start emailing companies! They aren't just going to magically come to you. Send TONS of emails to TONS of companies. You wont get them all, but it will give you a place to start!
Tell me some of your favourite blogs that you read.
Just Short of Crazy
Review Retreat
And of course Simply Stacie 🙂
I have many that I frequent often, those are just a few.
How can people find you?
Just myblog and Twitter for now. Haven't gotten around to setting up a Facebook for my blog yet.