Blog Spotlight | Mommy to a lil lady(bug)
I am running a feature spotlighting other Review & Giveaway Blogs. If you have one and would like to be featured, please email me at [email protected]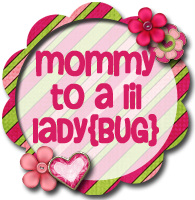 Today I would like to welcome Jessica from Mommy to a lil lady (bug). I had a chance to learn more about her blog and here's what she had to say…
Please tell me about yourself.
My name is Jessica I am a single mommy to my 4 year old daughter. I love going places & seeing things with her.
Please tell me about your blog.
My blog is a mixture of reviews & giveaways but I also blog about my life & my daughter I love posting pictures!
How long have you been blogging?
I have been blogging for about a yr now!
How did you get started?
My friend Kati @ Country Girl City Life talked me into blogging, she said its better than myspace, and well she was right!
What kinds of products do you feature on your blog?
I do reviews of mostly child products but I try to do mommy/adult products as well!
What was your favourite giveaway?
My favorite giveaway would be the Ringling Brothers Cirucs, it was a great show & loved to be able to share it with others!
My favorite giveaway product would be a pair of See Kai Run shoes, they are amazing shoes & my daughter wears hers everyday!
Who does your blog appeal to?
My blog appeals to mothers I guess you could say! Since most of my posts are child related.
What is the biggest challenge you have faced so far with your blog?
I love comments and I dotn seem to get enough on non review/giveaway posts which makes me think I'm pretty boring lol.
What do you love about blogging?
I love meeting new people, hearing about other bloggers & their children, winning great products!
Do you have a blogging pet peeve?
I hate captcha & giveaway posts that dont have a pop up for comments its difficult to scroll up & down if there are tons of comments!
Do you have any advice for the readers entering your giveaway? newbie review bloggers?
Make sure you read the mandatory entry info carefully to be sure your entries counts!
As for newbie review bloggers, Be Honest!
Tell me some of your favourite blogs that you read.
Some of my favorite blogs are Country Girl City Life, Really, Are you Serious?, Simply Stacie, Deal Seeking Mom, there are just so many great blogs I could go on!
How can people find you?
I have a facebook fan page, follow me on twitter @m0mmy & of course my blog 🙂