Blog Spotlight | Mama Hill
I am running a feature spotlighting other Review & Giveaway Blogs. If you have one and would like to be featured, please email me at [email protected]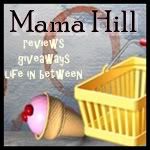 Today I would like to welcome Tara from Mama Hill and Ditch The Carbs. I had a chance to learn more about her blog and here's what she had to say…


Please tell me about yourself. 
I'm a wife and a mom to two boys. One is two and the other is 9 months old. I work a full time night job during the tax season. I've lived all over the U.S. and Europe. Born and raised an Army brat, I've somehow ended up in Austin, Texas!
Please tell me about your blog.
I have two blogs:
Mama Hill is a blog about my life and my boys. I list a few recipes, talk about the boys and parenting and do reviews and giveaways! I love having an outlet to squawk about whatever I want to!
Ditch The Carbs is about my quest to lose weight via the low carb route! Having two kids in 16 months took its toll on my body. I talk about the ups and downs of trying to lose weight and also post great low carb recipes! I'm cooking through, with his blessing, George Stella's latest cookbook! He is the Good Carb Chef on the Food Network and I am thrilled that he is so supportive of me!
How long have you been blogging? 
I have only been blogging a little over a year.
How did you get started? 
I actually started because a few family members wanted to see more pictures of my boys, so my cousin shoved me in the blogging direction!
What kinds of products do you feature on your blog? 
I feature products that make life more fun and/or make you healthier! I'm not a super health nut; I try to go for more of a simple and realistic approach. I love featuring anything that requires my boys to have a good time!
What was your favourite giveaway? 
My favorite was my first one because I couldn't wait to tell someone they won! I still get the biggest thrill from notifying someone of a win!
Who does your blog appeal to? 
I think Mama Hill appeals more to moms of toddlers, but Ditch The Carbs gets a very wide range of people, all ages, men and women.
What direction do you see your blog going in the future? 
I hope that they both continue to grow and that more people want to read them. I enjoy having two great topics to talk about. I really love doing reviews and sharing new products with everyone.
What is the biggest challenge you have faced so far with your blog? 
My biggest challenge is content. I wish I had a lot more time to write, but with two kids, a job and a ton of great friends, it's hard to keep up. A girl has to sleep sometime!
What do you love about blogging? 
I love that I can't be interrupted! Haha!
Do you have a blogging pet peeve? 
My pet peeve is when a sponsor doesn't come through with a prize. I think it puts the blogger in an awful position. It's like blaming the waiter for your burnt steak they make you look bad when you had nothing to do with that part.
Do you have any advice for the readers entering your giveaway? newbie review bloggers? 
Enter, enter, enter! There are so many ways to gain an entry to my contests, do them all!
For the newbies, don't be in a big rush. Know that some things take time. Try to enjoy as much as you can, so it doesn't feel too much like a job! Also, don't be afraid to contact a big company because you are a new blogger…you will be surprised!
Tell me some of your favourite blogs that you read. 
Bread and Circuses and My Good Cents are probably the two I go to daily!
How can people find you?

www.mamahill.blogspot.com
www.ditchthecarbs.blogspot.com
and on Twitter @bucbratt