Strawberry Kids Review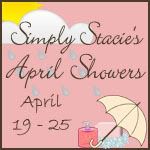 Strawberry Kids is a cloth diapering, breastfeeding, organic using company owned by Teri Hardy. They are authorized dealers for many of the brands you love and trust. They also offer a variety of gently used items to fit your budget and lifestyle.
Strawberry Kids sent me for review for the April Showers event a bottle of Angel Baby Shampoo and Body Wash and a container of Angel Baby Bath Blossoms both by Earth Mama Angel Baby.
Angel Baby Shampoo and Body Wash is a gentle, real castile soap, pure and mild enough to cleanse even delicate baby skin and hair. Made with only organic and natural ingredients, free from artificial foaming agents and sulfates, with no artificial preservatives, dyes or fragrances. I loved this product. I loved the way it smelled…like oranges. I loved how it had a nice foam to it when sometimes all natural products tend to lose that. I did not use it Sadie's hair as she doesn't have baby hair anymore..just a thick head of hair so I figured I would just use it as a body wash. It gave her bubbles to play with as well. It retails for only $10.95. A high quality product you can easily afford.
Angel Baby Bath Blossoms is a sweet organic herbal bath blend. These herbs are naturally comforting and calming for Mr. or Ms. FussyPants, and together with the oatmeal, they help nourish and moisturize even the most sensitive newborn angel baby skin. It also makes a luscious luxury bath for a tired mama! I love our nightly routine we have for Sadie. Bath, Book, Bed. I love to use things in the tub that are relaxing for not only her but me as well. My favourite calming scent in Lavender which is what I smell mostly with this product. It had a beautiful scent and it make for a new relaxing bath experience for both Sadie and I. It retails for $8.95.
These 2 Earth Mama Angel Baby products for 2 thumbs up from a tired Mama and now…I think I may go and soak in a nice hot bath using these wonderful Bath Blossoms. Ahhh…..
Disclosure: I was not financially compensated for this post. I received a sample of the product for review purposes. The opinions are my own, based on my personal experience with the product.