Happy Goat Soap Review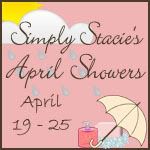 When Stacie asked if I'd like to review some soap from Happy Goat Soap I said "MAAAAA!". Okay, I didn't actually say that (I believe I said, "Yes!"), but this week I learned that Priscilla, Happy Goat Soap's "famous spokesgoat" loves to say "MAAAAA!".
Happy Goat soap, who soap products can be found at http://gethappygoatsoap.com , are made in Montana. Patty, the owner, lists specials on her site as well as which items she has on the curing shelf to appear shortly.
I was able to choose the item I wanted to review and I found myself spending a lot of time on her site because I found it difficult to choose between all of the amazing scents and the exceptionally cute designs! From penguins and zen rocks to cows and cats (and, of course goats), they were all so cute it was really hard to choose the one I wanted! I finally decided to choose the Abby and Nora design (mother and baby goat pictured here: http://www.etsy.com/view_listing.php?listing_id=41243478 ) in Chocolate Strawberry scent.
When my soap arrived, I found the design of the soap to be even cuter than I had imagined! I opened the packaged and found myself inhaling the scent! Chocolate strawberry was as divine as I had imaged it would be! I found the chocolate element overshadowed the strawberry a bit, but that was okay because it smelled AMAZING! Patty was also kind enough to include a small Orange Creamsicle soap in my package. I appreciated the fact that she had wrapped them separately so they would not be damaged and the scents would remain separate. I found that I also loved the Orange Creamsicle scent because it smelled very fresh and orangey!
I was really impressed when I tried my soap for the first time. I'd heard great things about goat's milk soap but I'd never tried it before. I found that the soap lathered up really well. I also found the feeling of the soap on my hands was decadent – usually I wash my hands and rinse them quickly, but I found myself rubbing the soap into my hands because it had such a rich feeling to it. When I rinsed off my hands, I noticed there was none of the residue I often find with regular soaps and my hands felt soft and smooth all day!
I decided to use the soap as a shower soap and it has left me feeling smooth all over! Since starting to use Happy Goat Soap, I haven't had to use a moisturizer after my showers because the soap does it all!
I would highly recommend Happy Goat Soap! The soap is really reasonably priced, is fun to look at and leaves my skin feeling soft and smelling great! You can buy Happy Goat Soap at http://gethappygoatsoap.com .
*I received no monetary compensation for my review. I received a sample of the product to use for my review but that, in no way, affected my opinion of the product.*