Golden Path Alchemy Review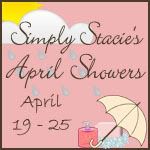 The April Showers event is really giving me an education on what is in traditional skin care products, and the natural, good-for-you options that are available. Golden Path Alchemy is a company that makes Holistic, Handmade, Herbal Skin Care, as well as a lot of information on how to keep yourself healthy through what you put on your skin.
Each of their products is made in small batches from organic ingredient, which allows for better quality control. There are no synthetic chemicals at all; no parebens, preservatives, fragrances, laurel sulfates (my new concern), or anything else you won't find naturally. Their products are never tested on animals. The company uses glass to package because of the recent health concerns of plastic and because glass takes less energy to recycle.
Golden Path Alchemy uses ingredients that are food-safe, meaning they are the highest quality available. It makes sense to me that what you put on your body should be as good as what you put in it, I had just never thought about it before getting my Golden Path Alchemy product sheets. They also utilize the ancient knowledge of the Five Elements, wood, fire, earth, metal, and water, for harmony and balance.
Their products are basically bottled goodness, or a spa in your home.
There are many products available for your mind, body, and spirit. The website has lots of information as to which line of products or individual product best suits your needs, whether it's your sensitive skin, stress level, or stretch marks. They truly have something for every need.
I was lucky enough to get to try samples of several of the products from Golden Path Alchemy. They made my skin feel so smooth, but not at all dry. I am wary of what I put on my face especially, because I have rosacea, but I had no irritation from these products. In fact, I found that my skin was soothed after using them. I am looking forward to ordering full-sized bottles of their skin care lines. My favorite product that I tried was the Refine Healing Herbal Serum. After using their Purify Cleanser for blemished skin or their Refine Cleanser for sensitive skin, all I needed was a few drops of the serum to moisturize. I found it to be very soothing on my face, and learned from the website that it is safe to use on even the most tender skin around the eyes and lips as well as burns or scars. It is a must-have magic elixir!
I am also looking forward to ordering their body care products, because if my face felt so great after using it, I imagine using their whole line of products must be heavenly.
You can get your own piece of heaven from Golden Path Alchemy by visiting their website.
Disclosure: I was not financially compensated for this post. I received a sample of the product for review purposes. The opinions are my own, based on my personal experience with the product.