Inktastic Review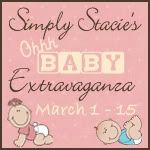 Inktastic has customized apparel and unique gift ideas. You can create something unique in minutes and find something for any occasion. They offer a wide selection of full color custom t-shirts and personalized baby gifts. There are no setup fees and no minimum orders, just quality custom printed products at affordable prices. They have thousands of designs to choose from and you can also upload your own images including your digital photos.
I got to review a Infant Creeper and an Organic Baby Snap Bib that I had personalized with my Niece to be's name…Gracie Mae…Shhh…don't tell. I have had to snatch them away from Sadie as she has been using them on her dolls. The bib is so soft and I love the size. Its a pretty girly pink and has a 2 snap closure on the back. And the onesie is adorable with her name across the chest and belly area. Its going to be perfect for her to wear this summer!!! And its a good way for everybody to see that she is a girl as well.
You can pick your colors and fonts on just about everything they offer. The onesies range in price from $9.99-$11.99 and the Bibs are $9.99-$10.99. Both on sale right now. Check them out at http://designer.inktastic.com/ get your personalized item today.
Disclosure: I was not financially compensated for this post. I received a sample of the product for review purposes. The opinions are my own, based on my personal experience with the product.