Dr. Hess Review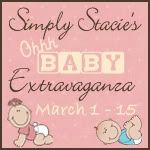 Dr. Hess Udder Ointment for Baby Butts will soothe and relieve your babies diaper rash keeping your baby udderly happy. Dr. Hess's Baby Butts Retails for $6.99 for a 2 OZ jar. I love the smell of this ointment. It smells like a pink peppermint. It is not greasy and goes on nice and smooth. Not too thick and thick enough. Sadie had a red mark from her underwear and it was sore and I put some of the cream on before bed and it was cleared up in the morning. I am very happy with Dr. Hess's Udder Ointment for Baby Butts.
Stacie also received two other product from Dr. Hess to try out- Dr. Hess Udder Ointment and Dr. Hess Udder Stick. Here's what she had to say…
The Udder Ointment has been wonderful this winter especially on my hands and elbows which often get so dry that they bleed. It contains 13 emollients to moisturize and soften skin and a blood circulating and oxygenating ingredient (Menthyl Salicylate) which also gives off a pleasant minty scent. I found it to absorb almost instantly into my skin and left no greasy residue. It is very soothing and my skin feels so soft and smooth now. No more cracking and bleeding!
Dr. Hess Udder Stick is a lip balm for your dry, chapped lips and comes in four flavours. I tried the Original flavour which is Vanilla. First of all, it smells fantastic!!! I love the scent and it reminds me of something from my childhood that I can't quite place- maybe a candy or something. It does a great job and keeping my lips kissably soft and supple. I have no complaints here! They come in packs of 4 for $10.
Visit Dr. Hess and check out their excellent product line and don't let your dry skin get you down!
Disclosure: I was not financially compensated for this post. I received a sample of the product for review purposes. The opinions are my own, based on my personal experience with the product.