Sassy Sparkle Review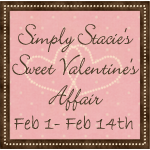 If you like bling, then you are going to love Sassy Sparkle! They make Custom Rhinestone Tees using genuine Swarovski Crystals. I have always wanted a tee like this and now I have one and I love it! As I have said many times before, I love crystals and think Sassy Sparkle's designs are awesome!
She has a wide selection of tees to choose from including Ladies Tees, Bride Tees,  Teen Tees and even Pet Tees! If you want a customized design, Sassy Sparkle can do that too! You can also count on having only top quality crystals in your design. Each stone is made of genuine lead crystal from Austria and has 14 full facets to create a beautiful prism of light.
I received the Swirling Hearts Tee– Junior Longer Length V Neck in Black- size Medium from Sassy Sparkle. I picked this one because of its Valentine's Day theme, but it is versatile enough to be worn year round. It is so pretty and looks much better in person. The pictures don't do it justice! The crystal detailing is beautiful. I love seeing how the light catches the crystals and really sparkles. Sassy Sparkle's tees are all handmade and the craftmanship is superb. It is perfect and I couldn't find a thing wrong with it.
I choose this style because it looked to be fitted (it was) and longer in length (yes, but I should have gotten a large so it would have been a bit longer on me). I washed my tee inside out on gentle cycle and hung to dry to protect the design. It was fine and still looks great!
It's an excellent value at $40.95 for this particular design that I selected. I would definitely buy more tees from Sassy Sparkle!
Disclosure: I was not financially compensated for this post. I received a sample of the product for review purposes. The opinions are my own, based on my personal experience with the product.