Aunt Sadie's Review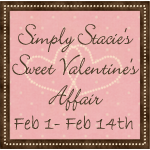 What are some of the essentials you need for a romantic night in with your partner? I can think of a few things that I would have on hand to create the right mood for the occasion. Candles to create an ambience are a must!  I was lucky enough to review Aunt Sadie's candlesfor a second time and have a peek at their Valentine's Day selections.
As a candle lover, I have tried many different brands of candles and Aunt Sadie's are some of my favourites. They are premium scented candles in decorated tins. I like that you can find a pretty tin to match your decor and also get a wonderfully scented candle too.  Aunt Sadie's sent me three candles for my review- a Sweetheart Candle (Nirvana scent) and a Paris Rose Candle (Nirvana scent) and a Pipe Tobacco Candle (Pipe Tobacco scent). The two Valentine's Day candles are so pretty to look at. I love the pink, of course, and I plan to use these candles long after Valentine's Day ends. I have a pink bathroom that is just calling their name.  The fragrance is nice and very feminine and not too strong.
The Pipe Tobacco candle was totally new to me and I was uncertain what to expect. The idea of a smoky type smell doesn't sound appealing, but I am willing to try anything once. Well, I was pleasantly surprised by this candle. It does have a masculine sort of smell of pipe tobacco, but none of that yuckiness that goes along with it. Its actually quite a comforting fragrance. This would be a good gift for man to put in his office or den. John really liked this candle and always wanted me to keep it lit.
As an added bonus, Aunt Sadie's sent me some of their new coasters to try out.  A gift box contains 4 coasters that are laminated and backed with cork. They sell for $14. They sent me the Cards Coaster Set where each coaster has a different suit- diamonds, hearts, spades and clubs. They are a new product to Aunt Sadie's and would also make a great little gift. I can see them being used when we do have friends over to play cards. Both John and I play Euchre and they would be great to have set out on the table for guests to use. Very fitting to use during a game of cards don't you think?
Be sure to check out Aunt Sadie's and their Valentine collection to set the mood for your night in.
Disclosure: I was not financially compensated for this post. I received a sample of the product for review purposes. The opinions are my own, based on my personal experience with the product.