Blog Spotlight | Glimpse
I am running a feature spotlighting other Canadian Review & Giveaway Blogs. If you have one and would like to be featured, please email me at
[email protected]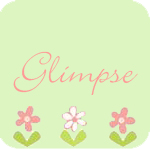 Today I would like to welcome Andrea from Glimpse. I had a chance to learn more about her blog and here's what she had to say…
Please tell me about yourself.
Glimpse
 is run by 3 Canadian moms…Andrea, Stacey and Julie. 🙂 Each of us has two kids and both Andrea and Stacey are expecting their 3rd little blessing this year. We are all stay at home moms and are thrilled to have the opportunity to raise our kids at home. We are also all BIG fans of natural products, eco-friendly products, and things like cloth diapering, babywearing, and well…just doing our very best to keep our families healthy and happy!
Please tell me about your blog.
Glimpse is an ALL Canadian Review blog. We feature only products that are made in Canada or companies that are located in Canada. It is our goal to build up our fellow Canadian companies and WAHM's, and we want to send as many new readers, visitors or shoppers their way as we can. Since Glimpse is run by three young moms, it is FULL of fun reviews and giveaways for pregnancy, breastfeeding, the baby stages, the toddler stages and more! You'll find reviews on everything from baby carriers to healthy snacks, to clothing for mom and more.
How long have you been blogging?
Glimpse has been running for just over 1 year now! And it is so exciting to see how far things have come in that one year…we definitely are looking forward to what the future holds for Glimpse!
How did you get started?
It all started because of a phone call! Stacey and Andrea (who have been best friends since high school) were chatting one night and came up with this idea of an All-Canadian Review blog. To our knowledge there was no other blog that featured ONLY Canadian companies/products, so we thought we'd take grab that idea and run with it, and we did! 🙂
What kinds of products do you feature on your blog?

As I mentioned earlier, we feature only products that are either made in Canada or are sold by Canadian companies. Most of the products we feature are either handmade, eco-friendly, or organic, though you'll also find reviews on other stuff as well…like books, baby carriers, games, shoes, decor, etc.
What was your favourite giveaway?
Personally? My favorite giveaway was this fall when we gave away a Strider Running Bike. This is still, hands down, my all time favorite review that I have had the opportunity to do so far. 🙂
Who does your blog appeal to?

Moms with babies and toddlers, grandparents who have younger grandkids, aunts, uncles, babysitters, etc.! Basically anyone who knows either a pregnant/nursing mom, or who knows a baby or a toddler. 🙂 We try to include a few reviews for dads throughout the year too…but lets face it…most companies don't want to send us their power tools to try out! haha. 🙂
What direction do you see your blog going in the future?
We are planning to continue in the same direction…promoting and working with any Canadian companies who are willing and interested! There are new companies popping up all the time so we love to help get the word out about those, as well as about the ones that have been around for a while. Of course, we are always planning to have our blog filled with practical and fun reviews and giveaways!
What is the biggest challenge you have faced so far with your blog?
Hmmm…probably figuring out all the "technical" stuff. You know, like coding, creating our own template/header, figuring out how to make buttons and all that jazz. But thanks to Julie, our newest addition, she has made and is making the job a lot easier!
What do you love about blogging?

Well, first of all…who wouldn't love getting packages in the mail all the time? Packages full of fabulous products for you and your family to try out – simply in return for a review and a few links on our blog! 🙂 It doesn't come without a bit of work though! But work isn't really work when it's fun, right? Finding Canadian companies, and discovering what kinds of things our wonderful country actually makes and sells is exciting too – and it's also great to be able to SHARE all of our great finds with you!
Do you have a blogging pet peeve?
When it comes to reviews and giveaways….I think my pet peeve would be readers who enter our contests but leave absolutely no way for us to contact them when and if they win. (We WANT you to win…so it stinks when you do win and we can't get a hold of you! 🙂 ).
Do you have any advice for the readers entering your giveaway? newbie review bloggers?
Make sure to read the giveaway guidelines carefully on each post…sometimes they change! Also check to make sure that the giveaway is open to your country/area. Oh, and leave a way for us to contact you in case you win! 🙂 For newbie review bloggers? Just go! Start contacting companies, and they'll start responding! You don't have to have a HUGE reader base to get started….often companies are willing to send you a product for a review even with a small reader base…and it's these reviews and giveaways that will help you build up your blog! And have fun. 🙂 Make the reviews exciting and fun to read…write them in your own words. Be honest.
Tell me some of your favourite blogs that you read.
Well, we may be biased, but we all love reading each others' personal blogs…. 😉
And…So it Goes (Stacey)
Biljardt Adventures (Julie)
Spoken For (Andrea)
How can people find you?
We're found at www.glimspe-reviews.blogspot.com (Glimpse). If you want to get in contact with us head over to our contact page. And if you're just curious and want to know more, you can always check out our Press Page or our Glimpse Team page…or at the very least enter our giveaways – you might even win something! 😉