Title: 200 Easy Mexican Recipes
Author: Kelley Cleary Coffeen
About the Book:
Mexican cuisine is about layering flavor upon flavor, adding freshness and spicy accents all at the same time. This collection of recipes gives you the basics of and foundation for really good Mexican cuisine. It offers you insight on how to create and capture the bold, complex flavors of Mexican cooking right in your own kitchen. With these no-fuss recipes for authentic dishes, you'll experience this wonderful culture through food and have fun with it.
My Review:
My knowledge of Mexican cuisine is small, but growing. I've made numerous trips to the Southern USA where Mexican food is everywhere! Most recently, John and I were in Dallas, TX and ate a few Mexican dishes. They were delicious, but I was not used to the spiciness! I had a Steak Fajita Salad made with Jalapeno Vinaigrette and it was a good thing I had a glass of ice water on hand!
The popularity of Mexican cuisine is only growing. In the USA, the Hispanic population has grown by 167% and is expected to outpace all ethnic groups in that country. I have a few good friends who are Mexican. In fact, my friend, Yolanda of Sassy Mama in LA, was the one who introduced me to guacamole! Love that stuff!
I've been perusing the book, 200 Easy Mexican Recipes and bookmarking all the ones I want to make. It's the perfect introduction to Mexican cuisine and exactly what I was looking for. The book gives a brief history of Mexican cuisine and lists all the essentials you will need including tools & equipment, ingredients, toppings, Mexican food definitions and more.
The chapters are divided into the various types of recipes including:
Appetizers
Salsas, Relishes and Sauces
Tortillas and Breads
Soups and Stews
Vegetables, Beans and Salads
Tacos, Tostadas, Burritos, Tortas and Tamales
Mexican Grill
Enchiladas, Fajitas and Other Favorites
Beverages and Cocktails
Desserts
I found most of the recipes that I looked being simple and straightforward. I recognized most of the ingredients and they are items that I would be able to buy at stores in my area.
There's not many pictures, but each recipe has a short description about the dish and also has tips and often ways you can vary the recipe. I want to try some of the desserts! Tres Leches Cake and Mexican Sundaes!
I selected the Chicken and Lime Soup to make for my family. I was interested in seeing how it would taste with the addition of the lime juice. It was actually really delicious. It had a light citrus flavour that blended perfect with the flavour of the chicken and with hints of garlic. Our local store didn't have any avocados so I left those out of my garnish. I also only used two chicken breasts instead of the four. Chicken breasts are really expensive at our stores. It still had a healthy amount of chicken in it. I think any more might have been too much.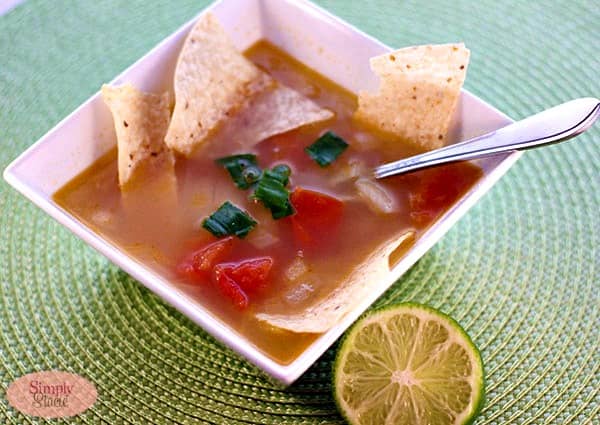 *I received a copy of this book for review, but was not compensated financially in any way. The opinions expressed are my own and are based solely on my experiences while reading this novel.*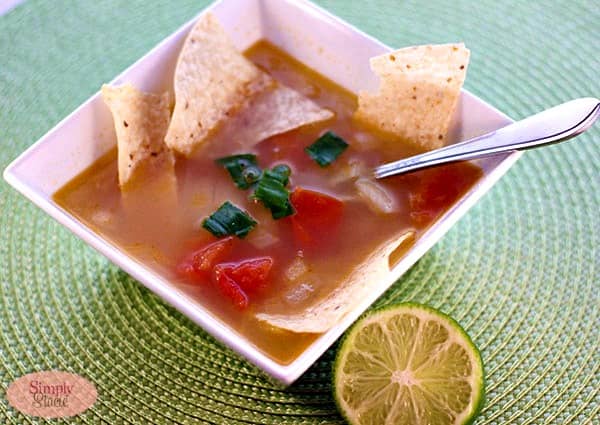 Chicken and Lime Soup Recipe
This quick and easy soup tastes like it simmered all day! A little lime juice really lifts this tomato broth for an amazing Mexican soup.
Ingredients
2 tbsp. olive oil, divided
4 boneless, skinless, chicken breasts
1 cup chopped onion
2 cloves garlic, minced
2 tomatoes, seeded and chopped
6 cups chicken broth
1/2 cup freshly squeezed lime juice (4 to 5 limes)
2 cups broken corn tortilla chips
2 avocados, diced
4 green onions, green parts only, minced
Instructions
In a large skillet, heat 1 tbsp of the oil over medium-high heat. Add chicken and cook, turning once, until no longer pink inside, 6 to 8 minutes per side. Transfer chicken to a cutting board and let cool.
In a large pot, heat remaining oil over medium heat. Add onion, garlic and tomatoes. Cover and cook until onion is softened, 4 to 6 minutes. Add chicken broth and lime juice.
Dice chicken and add to pot. Cover and bring to a boil over medium heat. Reduce heat to low and simmer for 10 minutes. Ladle into individual bowls and garnish with equal amounts of tortilla chips, avocado and green onion.
Recommended Products
As an Amazon Associate and member of other affiliate programs, I earn from qualifying purchases.
Nutrition Information:
Yield:

6
Serving Size:

1
Amount Per Serving:
Calories:

378
Total Fat:

20g
Saturated Fat:

3g
Trans Fat:

0g
Unsaturated Fat:

15g
Cholesterol:

73mg
Sodium:

1028mg
Carbohydrates:

22g
Fiber:

6g
Sugar:

5g
Protein:

30g