I've lived in my current home for five years and it's been a "work in progress" for five years! I like to incorporate ideas I see in magazines, on websites, and other people's homes into my home, so I'm constantly reading and researching in order to make my home look good and feel good to live in as well. One of my new favorite home sites is Stagetecture – a great source for topics about organizing, renovating, decorating, and making the most of the space you have. I've been inspired by Stagetecture and jumped at the chance to review the new eBook 111 Simple Tips for your Everyday Home from site creator Ronique Gibson.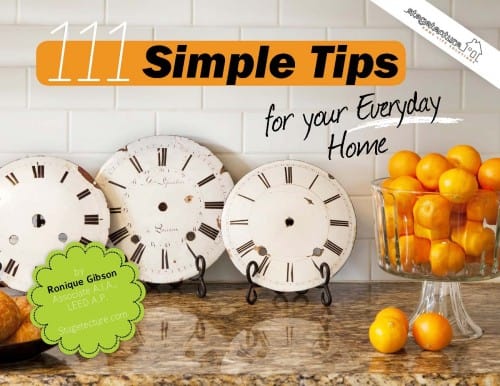 111 Simple Tips for your Everyday Home breaks down simple and attainable design and organizing tips for every room in your home – from the kitchen to the garage. Her ideas fit all budgets – whether you are looking to do a total renovation of simply just "freshen up" a space. A great tip for a tired bedroom when you're on a tight budget – simply replace your bedding and give it a fresh coat of paint to bring it back to life. One of her tips for the bathroom is to paint the ceiling the same color as the walls to make a small bathroom space seems larger. We're going to implement that tip in the next few weeks when we redo our entryway guest bath – I'm excited to see how it turns out! This eBook has a wealth of information for every style, budget, and taste, but it's short and sweet, making it an easy read. You can get a sneak peek at the book as well as download your own copy for $11 from the Stagetecture site.
You can see all of Ronique's great ideas from herself, and her in-the-know guest bloggers, on her website.
Disclosure: I was not financially compensated for this post. I received a sample of the product for review purposes. The opinions are my own, based on my personal experience with the product.