Mr. Peabody & Sherman Giveaway (US) #MrPeabody
Disclosure: I received product as compensation for this post. Opinions expressed are my own.
Mr. Peabody & Sherman is in theatres on March 7th!
About the Movie:
Mr. Peabody (voiced by Ty Burrell, Emmy Award® Winner –Modern Family), the most accomplished dog in the world, and his mischievous boy Sherman (Max Charles –The Amazing Spiderman), use their time machine—the WABAC—to go on the most outrageous adventures known to man or dog. But when Sherman takes The WABAC out for a joyride to impress his friend Penny, they accidently rip a hole in the universe, wreaking havoc on the most important events in world history. Before they forever alter the past, present and future, Mr. Peabody must come to their rescue, ultimately facing the most daunting challenge of any era: figuring out how to be a parent. Together, the time traveling trio will make their mark on history.
Check out the official trailer of Mr. Peabody & Sherman:
Mr. Peabody & Sherman FREE photo booth app
Grab your glasses and bow tie, and join Mr. Peabody & Sherman on the time travel adventure of a lifetime. Get Your Peabody On with a custom photo booth app that will make you and your friends look like the most stylish time travelers around – available for iOS and Android!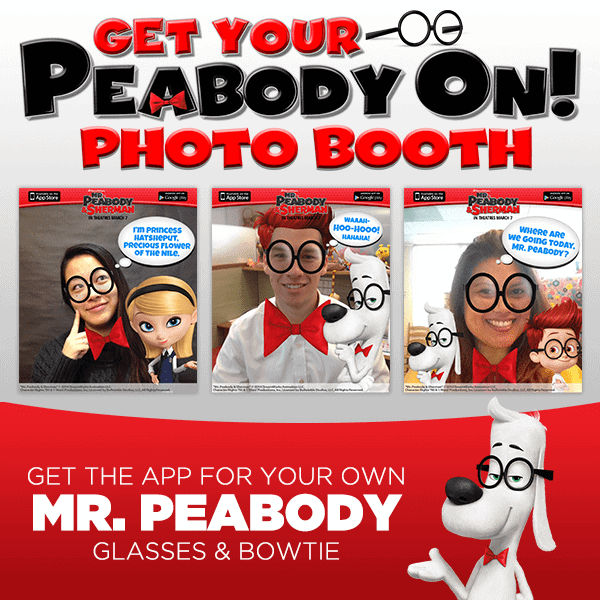 Once you download the app, enter to win weekly prizes in DreamWorks Animation's "Get Your Peabody On" Sweepstakes! Weekly winners will be drawn for a Mr. Peabody & Sherman prize pack valued at $100. Good luck!
Connect with Mr. Peabody & Sherman on Facebook and DreamWorks Animation on Twitter.
Giveaway
One reader is going to win a Mr. Peabody & Sherman prize pack that includes:
$25 Visa gift card to see the film in theaters
 4-pack of Mr. Peabody & Sherman glasses & bow tie set
Giveaway prize is courtesy of 20th Century Fox and DreamWorks Animation.